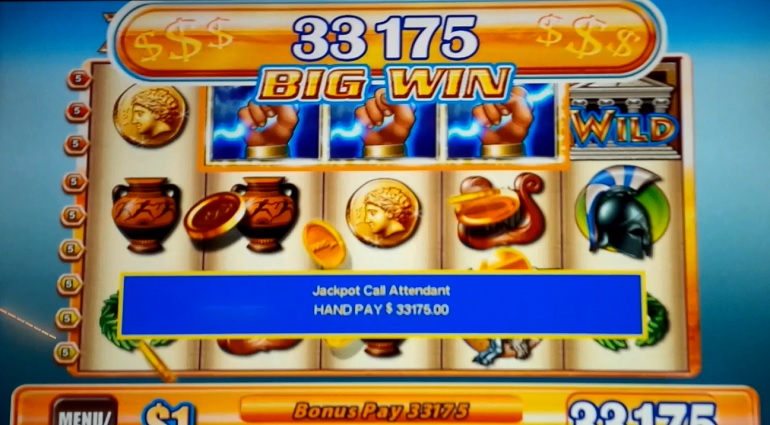 My $33175 Zeus Ultimate Win!
I started my YouTube Channel back in October of 2014 and it was my first real exposure to social media. And to be honest, I don't even remember exactly how I thought of the idea to start recording slot videos, and certainly I never imagined I'd soon win the Jackpot of a lifetime! It must have been fate, though, as on one of my very first videos, and in fact the SECOND video I ever uploaded to my channel, is when I hit that $33175 Ultimate Jackpot! At the time I wasn't an expert at recording slot machine play(and even now I'm still learning!) and I certainly didn't realize people even posted fake videos. At least at that time, I just tried to stay quiet and capture the screen the best I could and hoped to avoid security telling me to stop. Nowadays, I give a small intro to the machine, I pan up quickly to show the slot's marquee, and provide a running commentary of what I'm feeling during the play, much to certain people's dismay, hah! Almost since the beginning and continuing over the years, people have commented that the video is fake. And on certain levels, I can understand why that may be an initial reaction, especially with all of the fake slot videos out there, as it's a truly unbelievable win combined with the facts that you don't see the surrounding casino or hear me react.
But it's quite real, and I have the tax forms to prove it.
Here is a list of additional proof:
The main video itself was put through YouTube's "stabilize" filter as the original video was shaky. And at the 20 second mark and continuing for about 15 seconds , you'll see the bottom portion of the white marquee.

When I won this Jackpot, they took a picture and put it on their website- here's a video that incorporates the picture.

For years, you could also find the Jackpot photo on the casino's website although that casino since changed brands, so the original website was taken down.

Besides this hit, there were others, MANY others: just checkout our Jackpot Collection, and you'll see 13 Zeus Jackpot videos! Yes, it's the same machine and yes, it was a great machine! And yes, all of my Kronos wins were on the game right next door, as shown in the Jackpot video!

Here's another thing: if I was going to make a fake video, why wouldn't I fake some reactions, which would certainly be easy to do, right? And why would I spell Zeus wrong in the Jackpot checkout?

I have over 600 slot videos at this point: does it make sense that all of them BUT THIS ONE would be real? (No one has ever suspected any of the others!)
If you're still not convinced, feel free to take me up on my Zeus Challenge, where I will give 5x odds on any wager between $2500 and $10,0000 where we will both put our respective bets in escrow and then we can visit my accountant and review my W2-G portion of my 2014 tax return, visit the casino in question, and speak with employees who worked there at the time, and see a printed photo of my win. (Unless you got money to burn and just want to meet me, I'd actually advise you against this bet, though!)
Why do I care what other people think on this issue? Because I work hard at this website and the YouTube channel and don't want to be associated with those that post fake videos! And besides. it's time consuming to always reply the same information over and over again: now, I'll just link to this post!