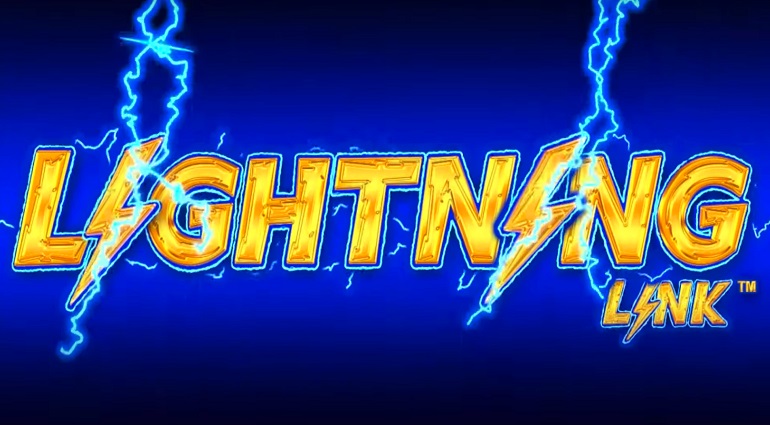 Lightning Link
Lightning Link slot machines by Aristocrat were groundbreaking with their introduction of the "Hold & Spin" feature players love, which has since inspired similar features in other popular titles such as Lock It Link, Ultimate Fire Link, Spin It Grand, Celestial King, and Dragon Link, just to name a few.
It would be rare at this point to find a casino that does not have Lightning Link, and some even have whole dedicated areas to the title - Lightning Link Lounges as they are known. Even still to this day, the original launch titles released in 2015 remain busy even as newer themes are being introduced. Talk about staying power!
For those that do that know, all Lightning Link titles follow the same formula which incorporates two bonus symbols: one type for the "Hold & Spin" bonus and another for the "Free Games" bonus. Progressives and Bonus Awards are won during the Hold & Spin feature and can be of four types: Mini Bonus, Minor Bonus, Major Progressive , and Grand Progressive . What's interesting is that the values of the Mini and Minor Bonuses depend on your selected denomination and your chances of having one of those bonus symbols land increases as you increase your bet. And the differences are not trivial: at the penny denomination the Minor Bonus is $50 while at the dime denomination it's $500!
The Major Progressive always remains the same regardless of denomination although once again, the greater your bet, the more frequently you will have a shot to win it.
The Grand Progressive is won by Filling the Screen during the Hold & Spin Bonus, certainly not an easy task, but doable!
Launch titles for Lighting Link included the following themes: High Stakes, Magic Pearl, Sahara Gold, and Happy Lantern.
To the casual observer, these may look like four completely separate games although they are not as some are clones of others.
Where the games differentiate themselves is during the Free Spins Bonus:
High Stakes: 6 free games are initially awarded when triggering with 3 or more bonus symbols with reels 2, 3, and 4 merged into 1 Mega-Reel with oversized symbols, which will always fully land. If the Suitcase symbol lands,you retrigger for 3 additional spins. If a Chip symbol lands, the Hold & Spin Bonus triggers. You can see High Stakes in all of its glory in this exciting Jackpot slot video:
Magic Pearl is a clone of High Stakes and you can see it here:
Happy Lantern: Upon bonus trigger, 2 Lions are presented for you to choose. Either the Hold & Spin bonus will be triggered or 6, 9, or 15 free spins will be randomly awarded with either 25, 100, or 250 wilds added to reels 2 thru 5. Check out Happy Lantern at the $25 Max Bet level in this slot video:
Sahara Gold is a clone of Happy Lantern and you can see it here:
With such a successful launch, other themes were inevitable, and now include:
Best Bet: During the bonus, all non-premium symbols are removed giving you a better chance to Fill the Screen for that Big Win or Jackpot. You can see my best Lightning Link win here on Best Bet:
Moon Race: Moon Race is a clone of Best Bet:
Tiki Fire: During the bonus, Wild symbols become 2x Multiplier symbols giving you a shot for a tremendous win, as you will see here!
Heart Throb: This is a clone of Tiki Fire and here you can see a Live Play Jackpot at the $25 Max Bet level!
The latest themes include Bengal Treasures and Wild Chuco which I believe to be clones of each other, where the novelty is that during the bonus, special "Reveal" stacked symbols are added, which always resolve to the same symbol, and can even resolve to the Hold & Spin symbol - giving you a shot to Fill the Screen for that Big Win or Jackpot!
And there will undoubtedly be more Lightning Link coming, Enjoy!