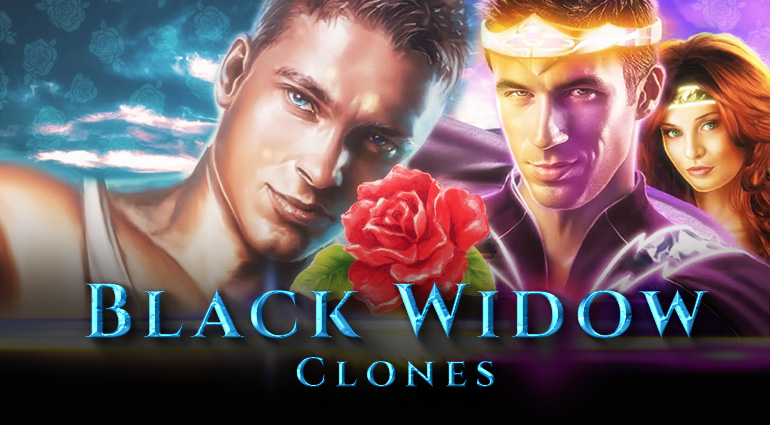 The Black Widow Clones!
The Black Widow slot machine by IGT / High 5 Games is an extremely popular title that can be found on most casino floors. And if you have something popular, why not try and expand its popularity by applying new themes to the same base game, right?! At least that's what I would imagine the thinking to be as I'll be the first to admit that a slot's theme is VERY important! So why not create some clones!
Maybe you've seen some or all of its clones, but didn't even realize it until you sat down to play and noticed a certain familiarity: Yes, The Mighty Atlas, Tango de Oro, and The Prince of Lightning are all clones of Black Widow with identical game play and pay tables with the only differences being their themes.
Black Widow and its clones can be considered "Low Volatility" games where generally speaking, you can land fairly frequent hits but if you're looking for Jackpot, you'll need to bet big or be VERY lucky, although it's at least possible. And because smaller hits occur more frequently, this type of play can lend itself quite nicely to High Limit play when a 10x to 50x win can be a significant amount of money.
For those not familiar, Black Widow and its clones offers a "Super Stacks" feature where before each game, certain reel positions transform to all of the same symbol, which is randomly chosen, giving you a better chance to "Fill the Screen" with a particular symbol although the Free Games symbol will only appear on reels 2, 3, and 4.
The Bonus is triggered by landing reels 2, 3, and 4 fully with Bonus symbols for 7 free games with the "Capture" feature initiated. At the start of the bonus, the 3 main character symbols after the top symbol have values associated with them initially at 2x your total bet. During each game, if the top symbol lands in the center position on the screen, then ALL of the 3 character symbols values are awarded to you. If one of the other character symbols lands in the center, then only that character's value is awarded to you. Every time you're awarded a value, an amount equal to the number of times you've been awarded a character's value multiplied by the number of "captures" for that character is then added to that character, which creates a nice compounding effect that you can truly capitalize on by retriggering the bonus for more spins, which is what you need to do! For example, if your initial bet is $10, then each character will begin with $20 and you will be awarded the following:
Capture 1: $20
Capture 2: $30 +1
Capture 3: $50 +2
Capture 4: $80 +3
Capture 5: $120 +4
Capture 6: $170 +5
Capture 7: $230 +6
Capture 8: $300 +7
Capture 9: $380 +8
Capture 10: $470 +9
Capture 11: $570 +10
Capture 12: $680 +11
Capture 13: $800 +12
Capture 14: $930 +13
Did I mention you want retriggers? You REALLY want retriggers in this one!
Besides clones for Black Widow, there are A LOT of clones out there - what are your favorites?