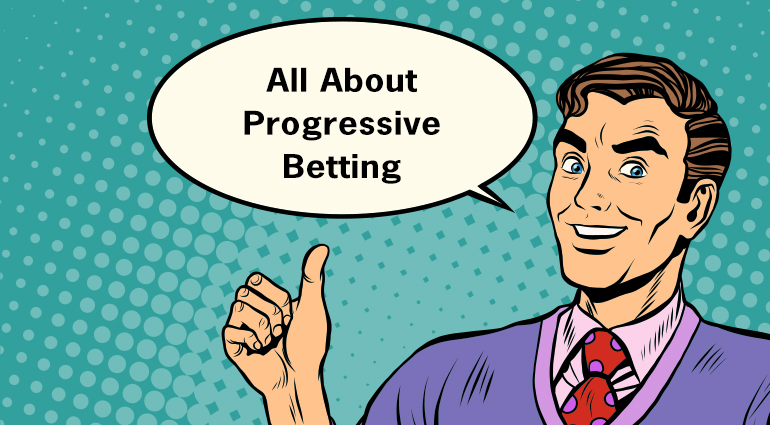 All About Progressive Betting
"Progressive Betting" is a phrase coined to describe a betting strategy where you vary your bets over a particular sequence instead of just choosing a particular bet amount and always playing the game at that level.
For example, if a slot allows 5 different betting options of $1, $2, $3, $4, and $5 then one way of doing Progressive Betting on that machine is to first bet $1, then $2, and so on all the way to $5 after which you start over at the $1 bet level. For all spins you may play in your session, your average bet would be a $3.
The main reason to employ such a strategy is that you enjoy doing so. I enjoy playing this way as I can essentially extend my bankroll by playing less over time then what would occur if I were playing fully at max bet. I also have some spins where I get to "Take my Shot" and have a chance at that Big Win or Jackpot.
There are a few things to look out for before employing a progressive betting strategy: does the particular title offer a clear advantage when betting max? For example, certain games unlock features when betting max or you only qualify for certain progressives when doing so. This is not to say that you still can't progressive bet on these machines, but it's just something to be aware of when doing do.
Finally, a common question is whether or not slots play the same at different bet levels beyond what features may be unlocked or advantages given as I describe above. Many people swear that better bonuses(relative to bet) are awarded at lower bet levels. Truth be told, I do not believe this to be the case but I don't have proof either way to state definitively the reality of the situation. For example, watch my video of Mystical Unicorn:
I don't believe it was anything other than luck to explain why I landed the Full Screen at the lower bet versus the higher bet.
In fact, it would really shock me if the overall Payback Percentage of any particular machine is mathematically better at the lower bet versus the higher bet.
All of that said, I've won large progressives at bets less than max, check out this awesome win on Golden Festival:
Finally, certain slots may be designed in a way that lends itself to Progressive Betting. Check out IGT's Scarab, where you receive a special "Wild Spin" on every 10th spin and see what I do:
Good luck out there!