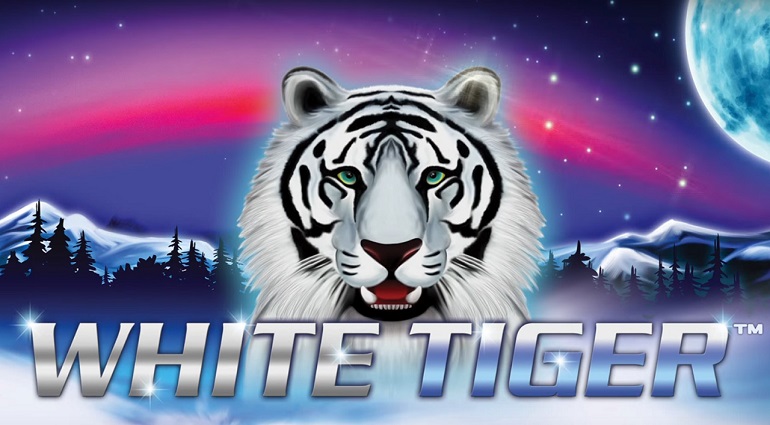 White Tiger
Overview
White Tiger by Aristocrat remains a classic slot machine and I feel it's one of the most perfectly designed video slots ever made! That's not to say you can always win playing it as you can't do that on any slot machine, but there are so many great features that are perfectly balanced and the result is excellent gameplay. For those not familiar, you win in White Tiger by landing the same symbol in 2 or more consecutive reels from left to right, depending on the symbol. To help, the special Jackpot Reel symbol can land in reel 3 which acts a wild symbol but also gives you a shot at a Progressive or can multiply any 5-reel win you may have.
Standard Play
You win by landing the White Tiger symbol on at least two reels from left to right or any other symbol on at least 3 reels from left to right. To help, the special Jackpot Reel symbol may land in reel 3 and if it does, it acts as a wild symbol. If you land any 5-of-a-kind win across all reels which includes this special symbol, the Jackpot Feature is triggered and you are awarded one pick of one of the reel positions in reel 3 to reveal either a multiplier or a crown symbol. Multipliers can be x2, x3, x5, x8 or even x10! If you reveal a crown you will be awarded either a "Bonus Prize" consisting of either 500, 1000, or 1500 multiplied by your bet level or one of the 3 Progressives. It's important to note you can win a Progressive at any bet level, but your odds of doing so increase as your bet level increases. Finally, wild symbols appear in reels 2 and 4 to help the cause. The White Tiger symbol is the only symbol stacked and it's not the Top Symbol, which is the Fang. Finally, any Progressive can be randomly awarded after any bought game.
Bonus Features
The primary Free Spins Bonus is triggered by landing 3, 4, or 5 bonus symbols in adjacent reels from left to right for 10 free games and a trigger award of 5, 10, or 50 times your bet respectively. During the bonus, the special Jackpot Reel symbol will land more frequently, giving you a better shot to trigger the Jackpot Feature. Retriggers are possible by landing 3 or more bonus symbols on adjacent reels from left to right.
Balance & Volatility
Part of the brilliance of the game is that you're not necessarily going to be wiped out if you don't trigger the bonus in short order as any spin can trigger the Jackpot Feature and it's not uncommon for the Jackpot Feature to award you a 100x Big Win. I've played this one a lot and continue to be impressed that for a game that can pay out thousands on a single quarter bet, it remains quite playable and overall feels less volatile than you would expect it to be, although overall I'd have to say it's still a volatile machine that's been designed in an extremely thoughtful and balanced manner.
How You Can Win Big! And by "BIG" I Mean 100x
Trigger the Jackpot Feature with any of the top 3 premium symbols and choose the 10x multiplier.

Trigger the Jackpot Feature with any of the top 3 premium symbols and have both that symbol and a wild symbol in reels 2 and 4 and choose the 5x multiplier or higher.

Land a bunch of White Tiger symbols so that your win multiplier is 50 or greater in total, for example by landing 3 reels with full stacks of White Tiger and one other reel with 2 White Tigers and the final reel with 1 White Tiger.

Being awarded any Progressive over 100x your bet either from the Jackpot Feature or randomly after any bought game.
For a game with a maximum bet of $2.50, the absolute Top Award would be landing a Full Screen of White Tigers with the Jackpot Reel symbol, and then choosing a 10x multiplier: the initial spin would net you $5 x (3x3x3x3x3) = $1215 and the Jackpot Reel spin would net you $5 x (3x3x10x3x3) = $4050 for a grand total of $5265!
Final Thoughts
A nuance of the game is that if you choose a multiplier during the Jackpot Reel Feature, the multiplier isn't necessarily applied to your total win on the spin that triggered the feature as reel 3 is completely replaced by your chosen multiplier so any other symbols on reel that may have contributed to your initial win will not be used in the final calculation! Confused? Let me try an example: if you land the following:
Reel 1: Ace
Reel 2: Ace
Reel 3: Crown, Ace
Reel 4: Ace
Reel 5: Ace
At the $2.50 max bet level, a single 5-of-a-kind win for Aces would be $10 and the above would yield $20 as you have both an Ace and a Jackpot Reel symbol in Reel 3. As the Jackpot Reel completely replaces Reel 3, you lose the benefit of that additional Ace, so any multiplier will be applied to the $10 win, not the $20 total triggering win!
Here's an incredible session that you really shouldn't miss:
How about an awesome 5-symbol trigger?
How about the Ultimate Setup with The Fang?
My largest max bet on White Tiger, what a great session!
And of course my Ultimate Win on the game and it was so great it became my celebration video!