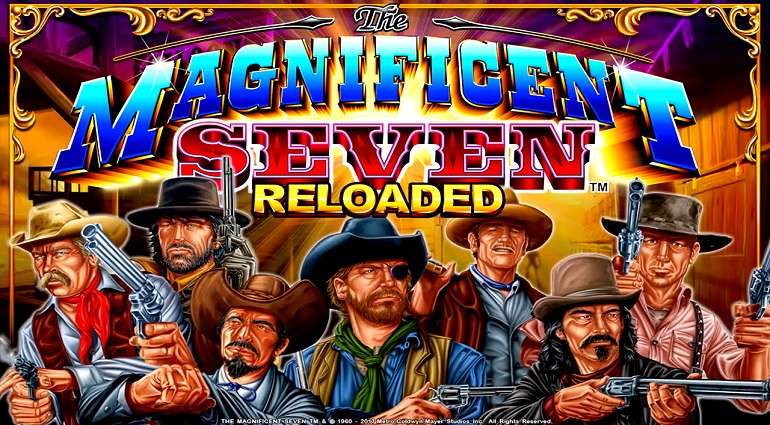 The Magnificent Seven Reloaded
Overview
The Magnificent Seven Reloaded is a great game by Ainsworth where even at a modest bet, you can go on a great run! I just love this one, where the base game is a lines-based game where you win by landing paylines although you can also win Progressive awards by landing 5-of-a-kind wins. Where things really get interesting is during the bonus, which has a number of different levels that truly can bring excitement to your game!
Standard Play
You win in The Magnificent Seven Reloaded by landing winning paylines and by scoring Progressive wins by landing 5-of-a-kinds with the special Overlay symbol in reel 5 as part of that win. Your level of Progressive is determined by the symbol itself and whether or not a wild symbol was used in the combination where certain premium symbols without wilds will score the Major Jackpot which is in the thousands - not too shabby for a $2 bet! And you can even win the Major at minimum bet, although it is more difficult to do so.
Balance & Volatility
Even with its modest max bet and for the ability to win thousands, I feel this title is fairly balanced even though standard wins are a bit on the low side and you really do need to land Progressives to stay afloat. The more you bet, the better chance one of the special Overlay symbols may land on reel 5 which will decrease your overall volatility level when playing, so if you are going to play this title, it is slightly better to do so at max bet.
Bonus Features
The bonus, called the "Reloaded Feature" is triggered by landing 3 or more bonus symbols for 10 free games. During the bonus, wild symbols also now substitute for bonus symbols, making it easier to retrigger. Your first retrigger awards you 8 free games at Level 2, where all wins with the exception of Progressives are multiplied by 2. Your 2nd and any subsequent retriggers award you 8 free games at Level 3, where all wins with the exception of Progressives are multiplied by 3. On the last spin of any individual level, landing 2, 3, 4, or 5 scattered bonus symbols will award you 1, 2, 3, or 4 Super Free Games respectively. During each Super Free Game, 120 wilds are added to reels 2, 3, and 4 giving you a great shot at winning multiple Progressives!
How You Can Win Big! And by "BIG" I Mean 100x
During the bonus, make it to level 3 and fill reels 2, 3, and 4 with wilds and score some great line hits and Progressives!

Score the Major or Maxi Bonus by landing a 5-of-a-kind with a premium symbol and without a wild symbol.
Final Thoughts
I just love this game and have went on some incredible runs, such as this one:
It's great to be able to play a game at low max bet and Win Big, Enjoy!