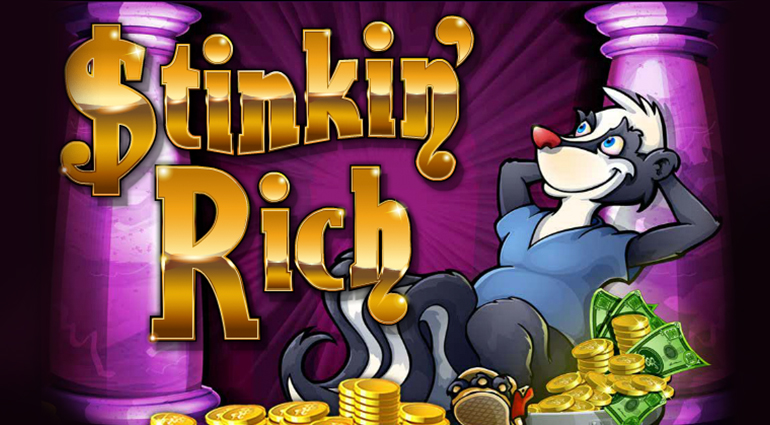 Stinkin' Rich - Slot Review
Overview
Stinkin' Rich was launched by IGT in 1999 and is still very popular on casino floors today. Like many retro video slots, this title invests in its theme heavily, with cartoon characters and a whimsical soundtrack: care was taken in designing a whole cast of characters from the Scatter Bonus Skunk to the Top Symbol, "Mrs. Gottrocks".
Stinkin' Rich is a lines-based slot where you win by landing winning lines consisting of between 3 and 5 of the same symbol or wild symbol. Wilds are stacked and can be found in reels 2, 3, and 4 only. The reel design is also interesting by utilizing a constricted reel three that only contains 3 reel positions instead of the usual 5.
Standard Play & Bonus Features
There are two bonuses in Stinkin' Rich: the primary bonus is the "Keys to Riches" bonus which is triggered by landing these special bonus symbols in reels 1, 2, and 3 although they must be on a line! As the general configuration of the game is a 100-line game, your 3 symbols WILL be on multiple lines: between 3 and 7 lines to be precise. Each line where the bonus symbols land will award you 5 free spins, so you can win between 15 and 35 free spins depending on your luck! During this bonus, EVEN MORE bonus symbols are added to your bonus reel set along with additional stacked wilds to give you a chance for that Big Win or Jackpot!
The second bonus is the "Trash for Cash" bonus which is triggered by landing 3 scattered bonus symbols in reels 3, 4, and 5. Upon trigger, you first choose one of your landed bonus symbols to convert its credits to a multiplier between 2 and 5. The other choices are then revealed for credits and added together and then multiplied by your awarded multiplier.
Credit award can be 100, 200, 300, or 500 credits multiplied by your bet per line. If I've done my higher math correctly, the best you can do in this bonus is 40 times your bet if everything goes your way, and that's a big "IF" so while it's amusing, the aptly titled "Keys to Riches" bonus is where the money is.
Finally, Stinkin' Rich offers a scatter award for landing 3, 4, or 5 scatter symbols for 3, 20, or 100 times your bet, respectively! I've had 4, maybe one day I'll land all 5!
How You Can Win Big! And by "BIG" I Mean 100x
There are 3 ways to achieve a Big Win in Stinkin' Rich:
Land 5 Scatter symbols for 100 times your bet! [Extremely Rare]

Any line hit with Mrs. Gottrocks will pay 10,000:1 on your bet per line! [Extremely Rare]

Trigger the Keys to Riches bonus and with a little luck, land wild reels in reels 2, 3, and 4! [Rare]
Final Thoughts
I believe there is a less-popular clone of Stinkin' Rich known as Bombay if you're interested in trying a different theme!
Want Mrs. Gottrocks, here you go!
Here's a nice BIG WIN video, on the "Winner's Choice 2" version of Stinkin' Rich!
And finally here's my JACKPOT HANDPAY on Stinkin' Rich!