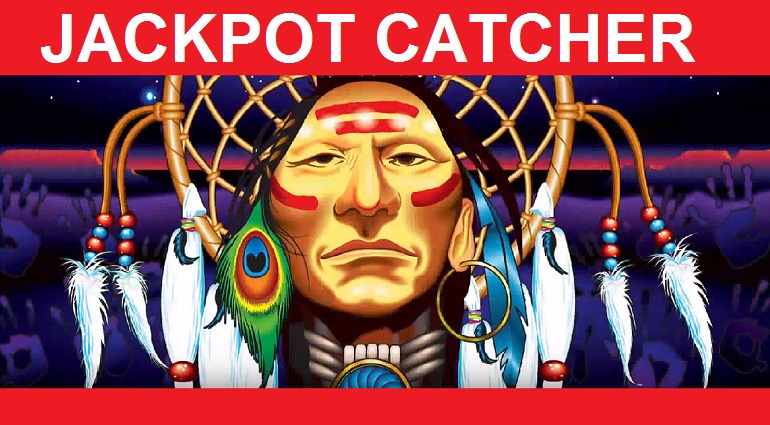 Jackpot Catcher
Overview
Jackpot Catcher improves upon the classic Indian Dreaming title, which itself is a clone of the extremely popular Pompeii, but adds a Progressive Feature only available during the bonus. In many ways it's an extremely well-balanced game while still offering you a shot at a Jackpot for a very modest bet.
Standard Play
Being a "Reel Power" game, you win not be landing winning combinations on lines, but by landing 2 or 3 of the same symbol in adjacent reels from left to right, depending on the symbol type. Ironically, it's not the premium symbols, but the lowest paying symbols, that pay when they land in just reels 1 and 2. Wild symbols appear only in reels 2 and 4 and the top symbol is the Chief which pays 100x your bet if one lands in each of the 5 reels. The bonus is triggered by landing 3, 4, or 5 bonus symbols from left to right to award 10, 15, or 20 free games respectively plus a trigger award.
Balance & Volatility
This in some ways is a tough one to answer as while the game definitely can be considered volatile, I also consider it fairly balanced in an odd sort of way although make no mistake: you DO need to trigger the bonus to stay ahead of the game or you DO need to get lucky and land between 3 and 5 Chiefs for a nice credit award. Unlike its close cousins Indian Dreaming and Pompeii, Minor Progressives absolutely help during the bonus to help keep your head above water and of course, the Major Progressive many times means a Jackpot, and it IS doable! I know this from personal experience as I've won it twice at the time this article was written!
Bonus Features
The bonus is triggered by landing 3, 4, or 5 bonus symbols from left to right to award 10, 15, or 20 free games respectively plus a trigger award. Wild symbols also substitute for bonus symbols to help the cause! During the bonus, the wild symbols in reels 2 and 4 become multiplier wilds of 3x and 5x respectively, and that or course can make things REALLY interesting really quick if you're lucky enough to land both and matching symbols in all other reels. During the bonus is also where you have a shot at Progressives as the wild symbols and bonus symbols now have a purple background, and rare bonus symbols in reel 3 have a red background. Randomly, although occurring more frequently as you raise your bet, after any spin where one of these symbols has landed, an Eagle may fly and when it does, it drops feathers 3 reel spots from its origin in the direction it flies and if they land on a purple symbol, you are awarded the Minor Progressive. If they land on the Red symbol, you are awarded the Major Progressive, which is usually in Jackpot territory!
How You Can Win Big! And by "BIG" I Mean 100x
Jackpot Catcher offers numerous ways to score a 100x Big Win:
During regular paid games, land reels 1 through 5 with the top Chief symbol.

During the bonus, score a 5-reel combination with the 2 wild symbols with an Ace or better symbol.

Have the Eagle Feathers land on the Major Progressive during the bonus.

Retrigger during the bonus with 5-symbols and have one of them be a wild symbol.
Final Thoughts
Watch the Eagle land with an INCREDIBLE JACKPOT like this!
And here we see the Power of the Chiefs!
Birthday wishes come true - BEST JACKPOT EVER!