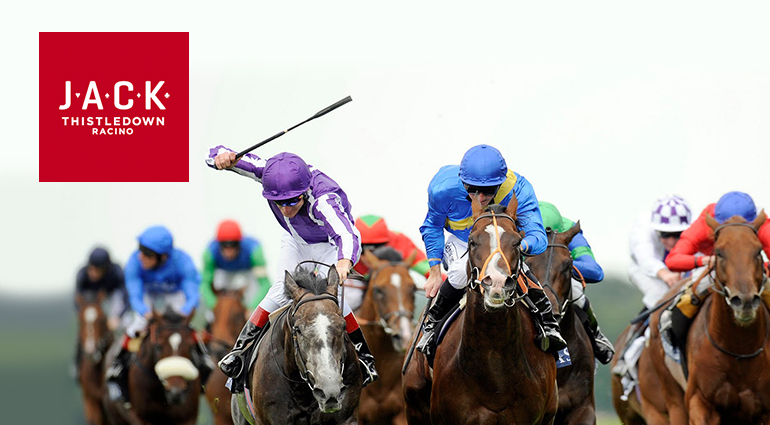 Jack Thistledown Racino
Introduction
Jack Thistledown Racino is located in North Randall, Ohio, about 15 minutes from downtown Cleveland. One of 3 local Cleveland casinos, Thistledown hits a lot of high marks as a solid offering of the relatively new "Jack" casino brand. Thistledown offers a nice variety of slot machines and also has live thoroughbred racing, although currently there are not table games, a poker room, or video poker. Thistledown was originally a standard horse racing facility after which slot machines were added upon the passage of a law allowing gaming in Ohio. Originally managed by Caesars and part of the Total Rewards family, Thistledown became part of the Jack brand in 2016. While there was a period of rocky transition, I'm happy to report that after significant facility upgrades and no doubt additional personnel training, this underdog is now a strong offering for both local and visiting patrons!
Slot Machines
Jack Thistledown has a solid variety of slot machines with frequent updates to keep players of all types satisfied. You can find machines from virtually all major slot manufacturers including IGT, Bally, WMS, Aristocrat, Everi, Aruze and Incredible Technologies although currently the notable exception is Ainsworth, although word on the street is that this may be changing soon, and I hope so, as Ainsworth is a great slot brand all casinos should be offering!
In many ways virtually all casinos offer slots, you may be wondering what's different between them? Digging down a little deeper, there ARE differences between casinos with regard to their slot offering and Thistledown really hits the mark in this area. The first obvious attribute is variety, as newer isn't necessarily better, so it's great when you can find both new and "classic" offerings, especially for those of us that appreciate older slots which are still fun to play. A second attribute is that many of the machines are multi-denominational, which is great for us that enjoy "upping the ante" on certain visits! Why all casinos don't do this by default is beyond me, although certain manufacturers have finally had enough and now design their games multi-denominational by default, giving players what they want, for example Lock It Link, Lightning Link, and Ultimate Fire Link. Having a nice high limit room sporting a variety of options in a private setting is also a great touch, and once again the mark is hit.
Finally, there's a certain comfort level in the facility design and layout: and it may not be something you can put your finger on although at the end of the day, there are casinos where you enjoy their atmosphere and those that you do not and at least for me, I like the layout and enjoy my experience when playing there.
Dining
Thistledown offers 4 dining options on the main casino floor including the American Burger Bar, the Diner, Millcreek Grille, and Nonna Pazza. I've tried them all and here are some short takes: the Burger Bar is passable, although there's nothing extraordinary about the burgers served but if that's what you're in the mood for, it's a reasonable option. Nonna Pazza is a "pasta bar" and it's an interesting option in the style of a "fast food" pasta offering although you can also order a flat bread or sandwich: all in all, a nice offering. The Diner was traditionally a favorite, but sadly the hours and menu have been cut-back so it's a bit limited at this point. Millcreek Grille is the "fine dining" option and it's not only "casino good" I'd go there even if it wasn't in the casino! The "flight of wings" are some of the best I've ever had, and the "MCG Madeira Chicken" is a great dish. Combined with nice atmosphere, it's hands-down the place to dine!
Player's Club
Jack Thistledown is part of the ever-expanding "ClubJACK" rewards program and I'm continued to be impressed with the variety of rewards offered to players. Levels include "J", "A", "C", "K" and the elusive "Infinity" level for the real high-rollers out there! You can read about the details of their rewards program at JackEntertainment.com.
By playing, you earn BOTH comp points and cash back, although with a whole slew of other perks including event invitations and annual trips. I find the monthly offers at Thistledown to be very reasonable with respect to Free Play and also appreciate the weekly events that they have, where your play earns drawing entries where lucky guests get to play games for Free Play and Prizes on both Friday and Saturday nights. Annual trips including airfare are included for players at "K" level and beyond!
There are also many other additional promotions to keep players happy, and I give management a lot of credit for working to continually improve their players club!
What I Like Most
While the transition from Caesars to the JACK brand was rocky, it's been great to see the progress made through both facility upgrades and personnel training. I'm a big believer that almost above everything else, customers need to be treated with respect and the way we're treated by staff reflects greatly on management and overall how the facility is run. And that's one of the reasons I like Thistledown is that the workers you interact with are friendly and respectful, and that goes a long way with me.
I also like the fact the organization appears to be listening to players with regard to machine options and when providing general feedback. Changing machine configurations to allow for multi-denomination play was a great upgrade, for example.
ClubJACK is evolving into a formidable loyalty program for the competition, where your comps now offer a reasonable number of choices for you to choose from, including trips and concert tickets. Once again, it's been great to see this evolution.
Promotions also continue to improve and make no mistake, they add to your overall experience and help differentiate smaller casinos from some of the big behemoths out there!
Looking forward, I can offer the following suggestions: improve the food offerings either by expanding the hours of the Diner or by adding another option to the food court, which currently only has the Burger Bar. In addition, while everyone is friendly at the currently available choices, sometimes service is slow and can also be improved. Another improvement would be to add Ainsworth games to your floor, as you once had, as they are favorites among certain players, such as myself.
All in all, when visiting Cleveland, Jack Thistledown is a great choice for your gaming!
Quick Facts:
Slot Machines: YES

Table Games: NO

Poker Room: NO

Horse Racing: YES

Hotel: NO

Fine Dining: YES

Concert Venue: NO

Rewards Club: ClubJACK