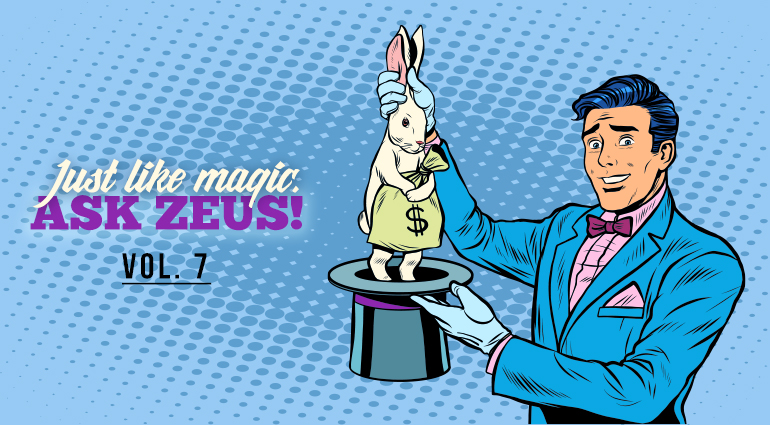 Ask Zeus: Volume 7
"What is your favorite slot?"
This is a tough one to answer and I'm honestly not sure if I have an ultimate favorite but a few brands do stand out. The various Lightning Link themes by Aristocrat are all great slots! They are expertly balanced where you have a reasonable chance to trigger a bonus and a reasonable chance to win something big and in the interim, you feel entertained. I especially like playing them at the $12.50 and $25 level which adds another layer of excitement! For example, check out this awesome quick hit, first spin bonus on Lightning Link High Stakes:
And here's an awesome Jackpot on Lightning Link Heart Throb:
From Ainsworth, the "Quad Shot Progressives" family of slots are also some of my favorites: it's hard for me to walk by one and not want to play it! What I like about them is the ability to land Progressives at modest bets for 5-reels hits and scoring multiple Progressives on the same spin.
Here's an incredible example on one of my all-time favorites, Electric Nights:
And check out this awesome win on Hotter Than Hot:
Besides those two brands, I can almost always appreciate many retro slots and not just for the nostalgia, but because many are just plain fun in their quirkiness. In addition, I think Bally scored big with their Ultimate Fire Link brand and I appreciate many Konami games as true "Gambler Style" games where Big Win and Jackpot potential is there! For example, can it get better than this on Great Moai?
"Are you up?"
I'm periodically asked this but I won't get into specific Win/Loss figures because of privacy concerns: it's like asking someone "How much they make" and that's not something I choose to disclose in a public forum. I will answer the question in the broad sense though: have I won on particular days? Of course! Have I won over the period of a month? I certainly have. Have I won over the period of year? That statement is also true! But what's also true is that over the long-term, you lose playing slot machines directly, myself included. I say "directly" as if you take into account all of the perks including food and free trips, the answer gets a little more gray. And if you were to take into account revenue from YouTube, then it's a whole new ballgame!
"Are Wonder 4 games a scam?"
Wonder 4 Games are not a scam, but you do need to understand that essentially you're playing a single game 4x the normal speed, so you may feel your bankroll get eaten up at a quicker pace! So my advice is to slow down your play and if you choose one of these machines and you need to realize what's going on. Also realize when playing all 4 arrays in Wonder 4, you generally receive some sort of advantage, such as a chance for Super Free Games or a Jackpot Wheel spin. This advantage needs to be paid for somehow, so when you do play a particular game in Wonder 4 versus its standalone version, it certainly may feel slightly different. All in all, I really enjoy the Wonder 4 brand and especially the latest, Wonder 4 Boost: