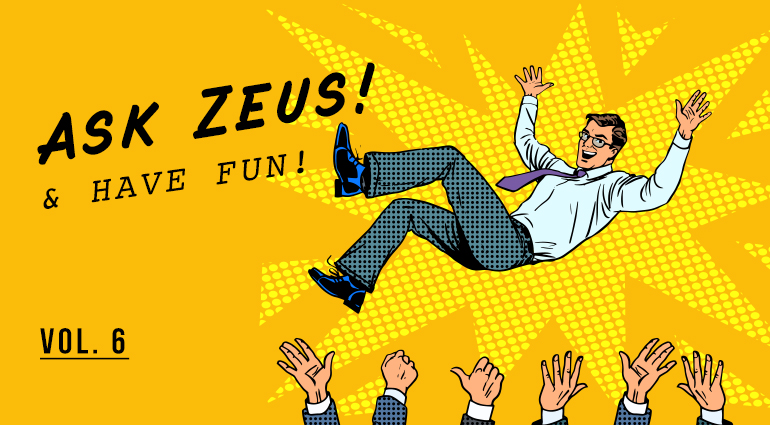 Ask Zeus: Volume 6
"Why don't you show your face?"
Well, it is in fact out there with a little sleuthing! But there are a number of reasons why I choose to maintain a moderate level of privacy:
While I've met a number of great people through slot videos, there are also Wackos out there and it only takes one to ruin my day.

I've made the decision to put the games before my personality: for me, it's always first about the games and I just try to not get in the way too much! That's not to say other approaches don't work as they certainly do, but it's just not my style and above all, you need to be authentic to yourself.

Casino policy on doing videos can be a gray area so I choose to not complicate my situation by remaining semi-anonymous. Any casino that states up front a policy against videos I will not patronize, but very few do. In fact, if you ask all employees at a particular establishment, you will almost always not receive a uniform answer.
"I always lose. Do you have any general advice on how to win?"
This is not something that can be answered quickly, and I will answer this more in-depth in a future video, but here are 3 rules you can follow to help:
Limit your play - the casino will always be there! Take breaks. Float around. If you do this, you will likely enjoy yourself more and "give luck a chance" versus just banging away at the same machine for hours, which almost always ends in failure from a monetary standpoint.

Take advantage of offers - really do this! This means of course, you must always use your Player's Card in order to receive offers to use!

Be smart about progressives! If you see two of the same machines with Progressives, always play the one with higher progressives although if a machine has multi-level progressives, the choice can get a little more complicated. Finally, only play certain machines that have Progressives only when they are above a certain level: what level is that? It will depend on the machine but you can get a feel for that level if you watch it often.
"Do the casinos pay you to promote gambling?"
No, they do not. At the time of this answer, I've not received one dime from ANYONE in the casino industry. The only money I have received is from Google for all of those wonderful ads you see as you watch my videos.
Please understand that the casino business is highly competitive these days, and there would be zero return on investment for a singular establishment to pay me as I don't identify where I'm playing at.
Other YouTube slot channels do in fact promote where they play and I'd like to think they are receiving some compensation for doing so although I'm not sure.
What I can say with utmost certainty is that there are no deals where somehow our odds when playing a particular machine would be in any way different than your odds would be! We risk our money and try and win, same as you!