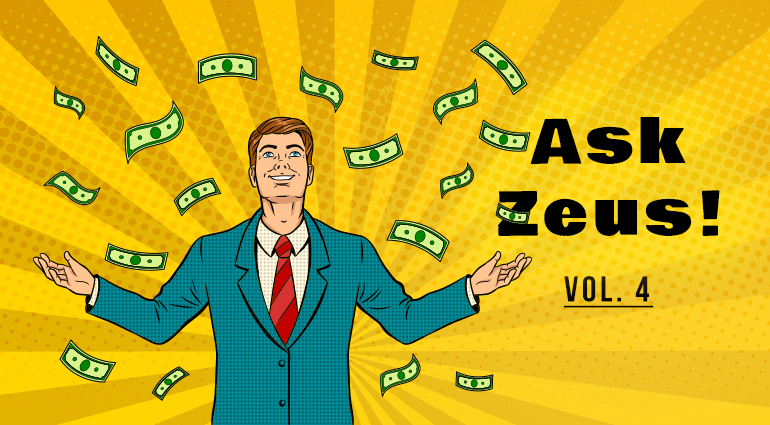 Ask Zeus: Volume 4
"How Do You Decide Which Slots To Play?"
Slots come in all different types to cater to all different player types and moods! Sometimes, you want to "Shoot for the Moon" and try and win a Big Jackpot and other times you may just want to play and have fun with a goofy-themed slot that makes you laugh. I tend to play a variety of games in order to showcase a variety of videos, along with certain favorites.
Sometimes though, there's a clear choice between what machines to play and they almost always involve Progressive awards, so it pays to be on the lookout! The first thing to understand is that progressives can be networked between multiple machines or not: for example the popular Zeus: Son of Kronos and Kronos: Father of Zeus machines typically can be found in groups of 4, although they ALL are networked to share the same Progressives. One casino I frequent actually has TWO groups of these machines, although one has the top progressive around $12k and the other is at $36k- why would you play the former although I see people every visit doing so!
The other major consideration is your bankroll versus the volatility of the particular machine. Some slots are extremely volatile and unless you have a large bankroll, why play them?
"Do You Always Bet Max When You Play?"
Increasingly developers are incorporating incentives to bet max for access to additional features not available to those that do not. For those games that provide such advantages, I DO tend to play max bet in order to enjoy the game as much as possible, and it's also likely that the gameplay is a better bet when doing so, although you need to balance that with the likelihood that you will play more money through the game. There are a huge number of examples that illustrate what I mean: for example on Everi's Mardi Gras in the Big Easy, only by betting max do you unlock all bonus features, such as Voodoo Wilds:
Ainsworth's Pac-Man Wild Edition only enables your chance a the Big Wheel Feature when betting max:
In the end, I don't always bet max, but I tend to when an incentive is offered to do so.
"Why Do You Take Breaks?"
Many times in my videos you will see me "Take a Break" between segments and I do so for a number of reasons although the most important one if you're reading this boils down to one simple fact, generally speaking: The more you play, the more you lose, and in the end it's about entertainment! I find myself having a more enjoyable experience floating around from machine to machine versus just sitting at one machine banging away at it for hours on end. And that brings up a question: how many times can you say you've come out ahead playing a singular machine at the same bet level for an hour or more? Truth be told, the answer is likely to be, "Not Many".
There are a number of other reasons as to why I take breaks that are specific to me taking slot videos. One of the main reasons is that while some casinos are friendly towards the taking of videos, others are not, so holding your mobile phone in an obvious fashion is a good way to be spotted by security and to get yourself into a problem. Another reason is to just take stock of where you're at in order to make a good decision as it's easy to get carried away, especially when trying to get a good video! I also don't like to necessarily "Shoot for the Moon" every time I play: if I just won on a high-limit machine and am up $1000 for the day but still wanted to capture something additional for the video, as I like to say, "The casino will always be there" so I may give that a shot on another day and not risk my winnings on that particular day. Additionally, background music can often trigger a copyright claim on a video effectively removing my ability to monetize it. Taking breaks during songs reduces the odds of the video being flagged. Sometimes, doing so also gives me the flexibility to try a few more to keep the streak going without potentially ruining the video too! Finally, taking breaks is also a good way to create natural breakpoints in longer videos for ads: yes, I know they can be annoying but they help pay for this website and my channel!