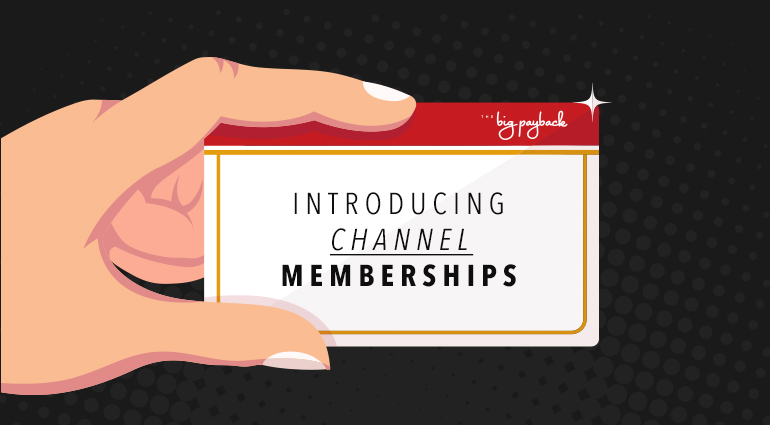 Introducing YouTube Channel Memberships!
Hello Everyone! I'm proud to announce the launch of a great new feature for my channel, YouTube Channel Memberships!
Perks for Channel Members will include the following:
Loyalty Badges - Exclusive access to loyalty badges in comments and live chat.

Q & A Chats - I will host Members Only Chats - you can ask me questions on slots, gaming or my channel.

Members Only Videos & Community Posts - Posts on diverse topics and yes, I will reveal myself and no longer be the Mystery Man!

Members Only Live Streams - Finally, I will Go Live for Channel Members for special events!

Early Bird Event Registration - Channel Members will first be notified before any public announcements are made.
Follow this link to check it out:
https://www.youtube.com/thebigpayback/join
This launch will be the start of taking things to the next level where we will move beyond from just having slot videos to creating a vibrant community for slot enthusiasts.
It's hard to believe it's been over 4 years since I've posted my first video, and of course won my biggest Jackpot of my life on Zeus. At that time, I posted videos as something fun to do and I could not have imagined that today, I spend over 150 hours each month making my channel and this website work. Still, there's so much more to do to realize my vision which includes the following:
Hosting Group Pull Events

Live Streaming

Website Updates including a Scoreboard module for all of the Slot Community, a Slot Discovery Feature, and Casino Locator.
Unfortunately, it will be very difficult to do so as there are many challenges to overcome which is why I need your help:
While YouTube is a great platform, it's become painfully clear that in an attempt to enforce their policies & procedures through automation, that many channels are becoming collateral damage in the process. In 2019, on any day you may wake up and find your channel demonetized or even worse, deactivated, even through no fault of your own. Having a vibrant Membership Community may help prevent or mitigate certain negative consequences that could affect my channel.

In order to build many of these great features and host certain events, I do need funding to do them the right way, as they should be done.

Over the past year I've been both threatened both personally and professionally - people want to take me down for reasons unknown to me. Becoming a member is a great way to show strength against these negative forces!
UPDATE! Here's a video that describes more about Channel Memberships:
This is only the beginning! Thank you for your consideration and please let me know any feedback! Tim